Seaside
---

Luxury apartment for sale by the sea in Pointe aux Canonniers, Mauritius.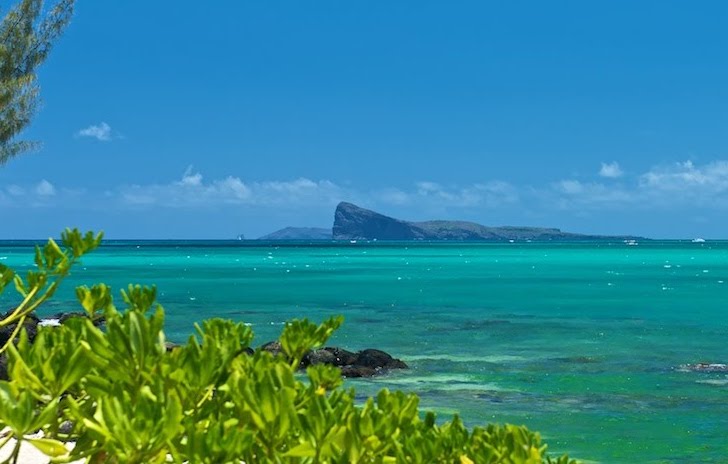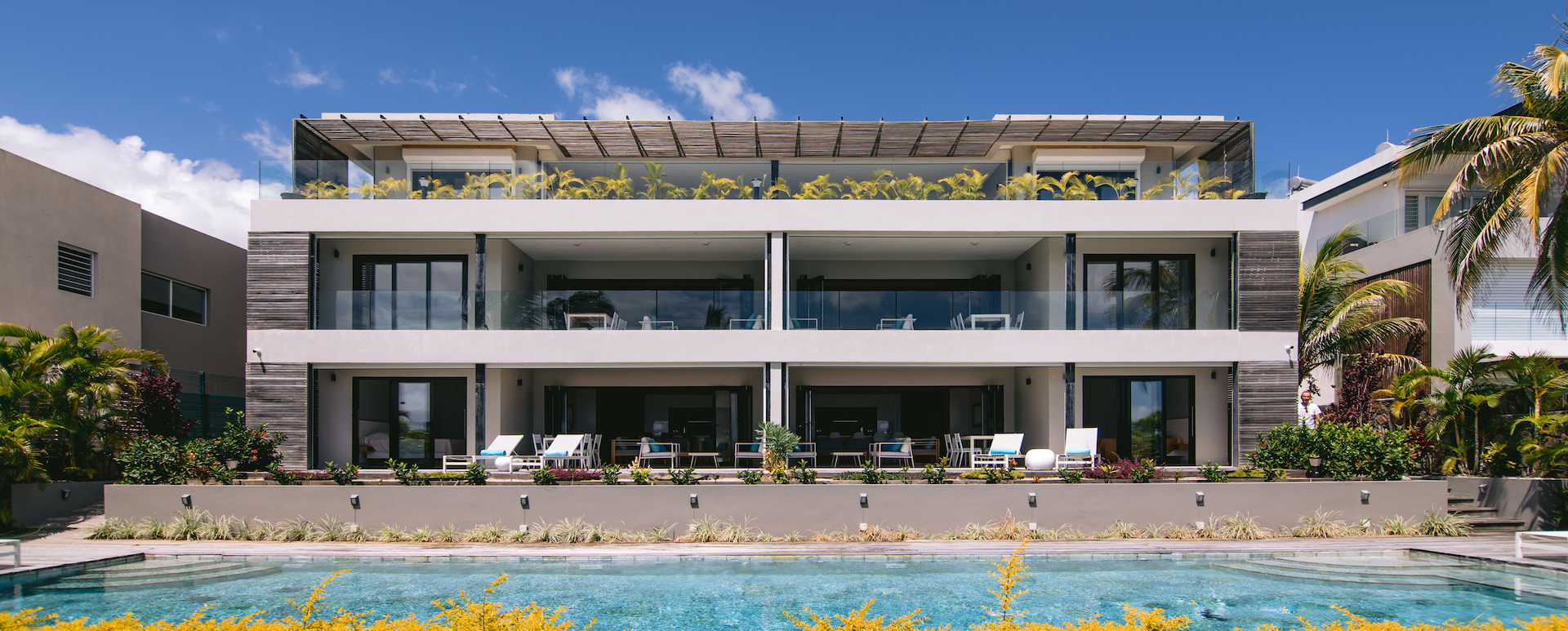 Invest in luxury
---
Do you want to invest in luxury real estate in a place that exudes calm and serenity in Mauritius?
Baypointe Immo is pleased to present to you a property in a prestigious residence in a privileged environment in the north of Mauritius.
Indulge in the serene coastal lifestyle, Beachfront and Panoramic views of the islets of northern Mauritius.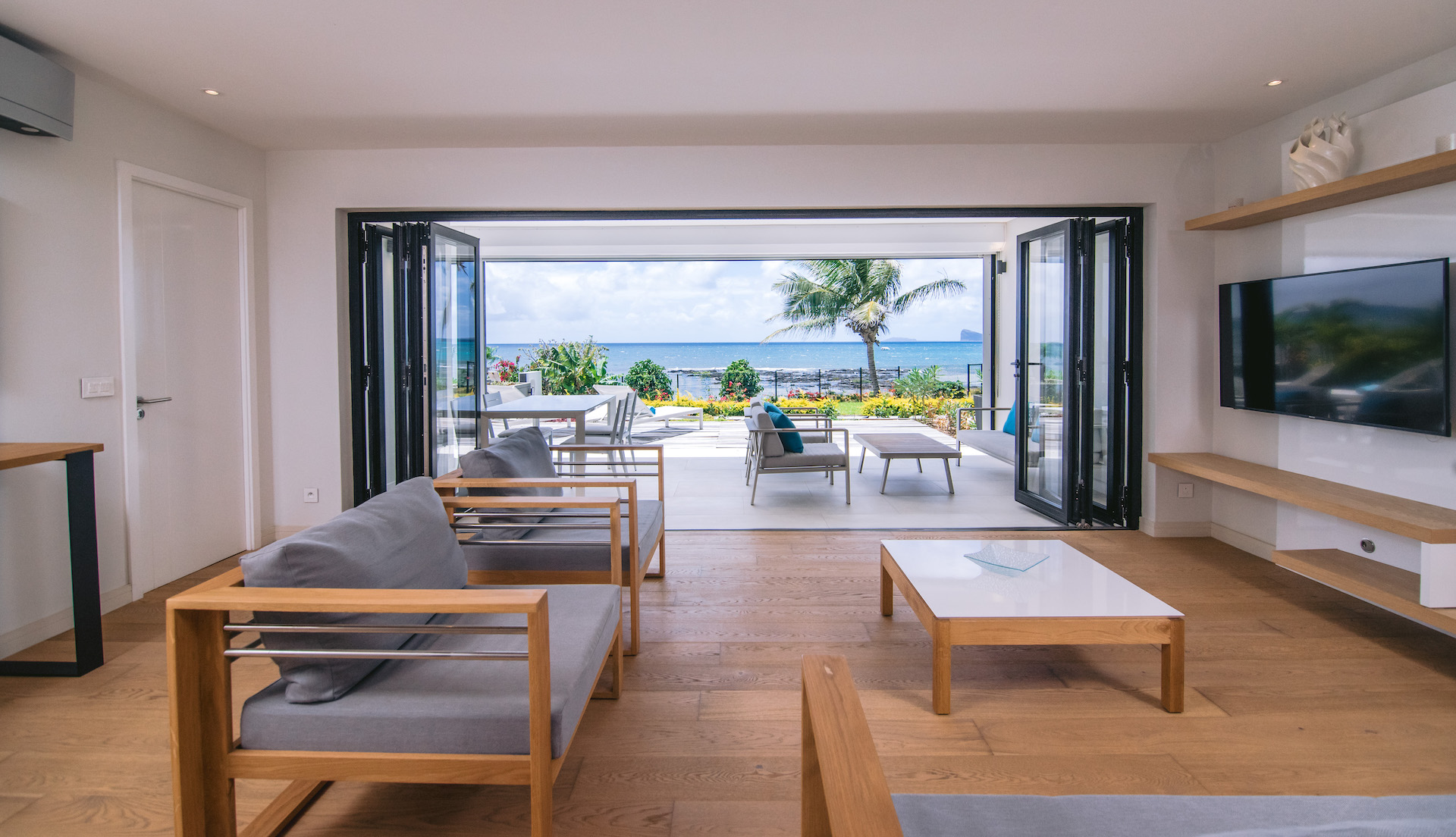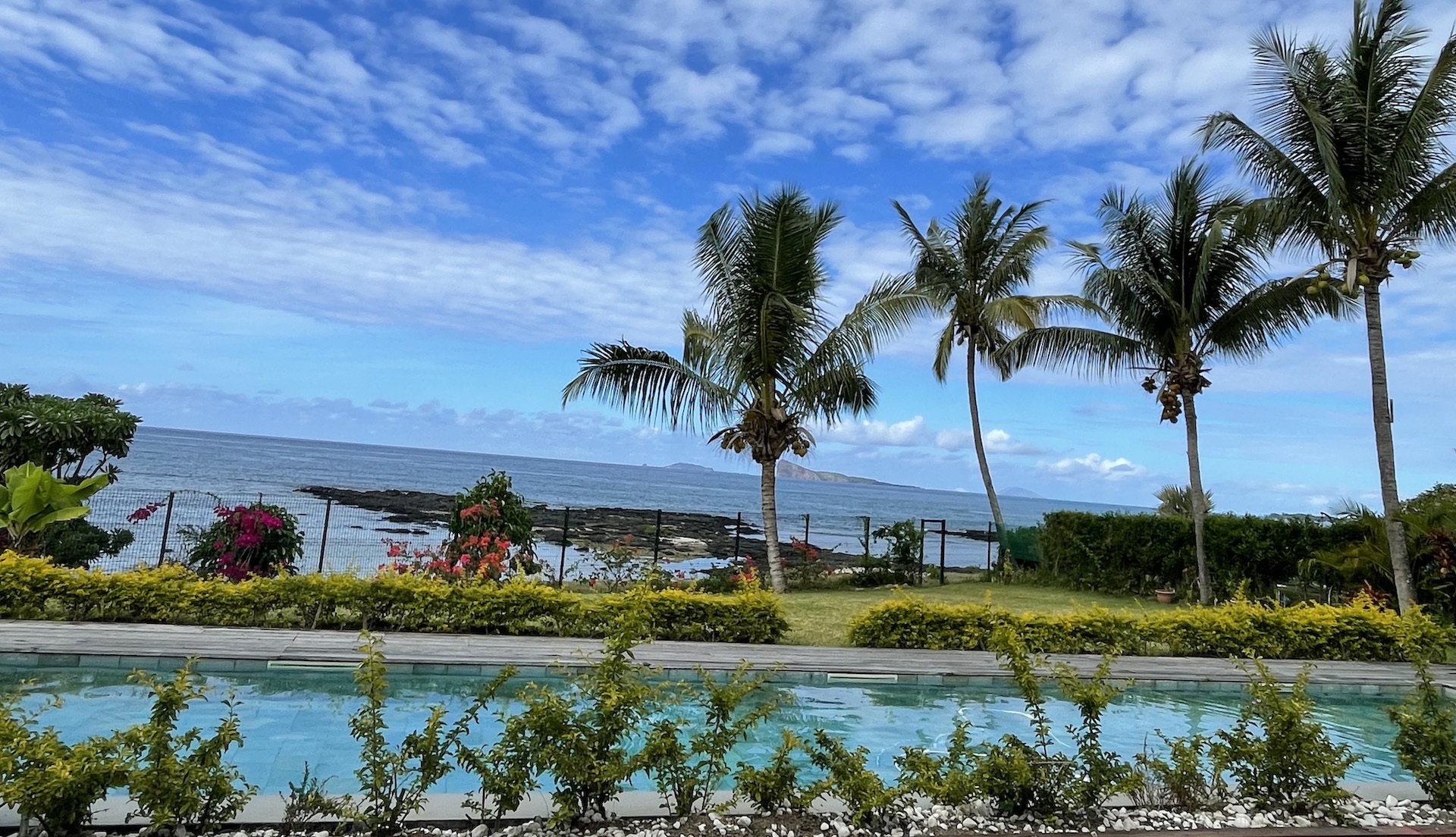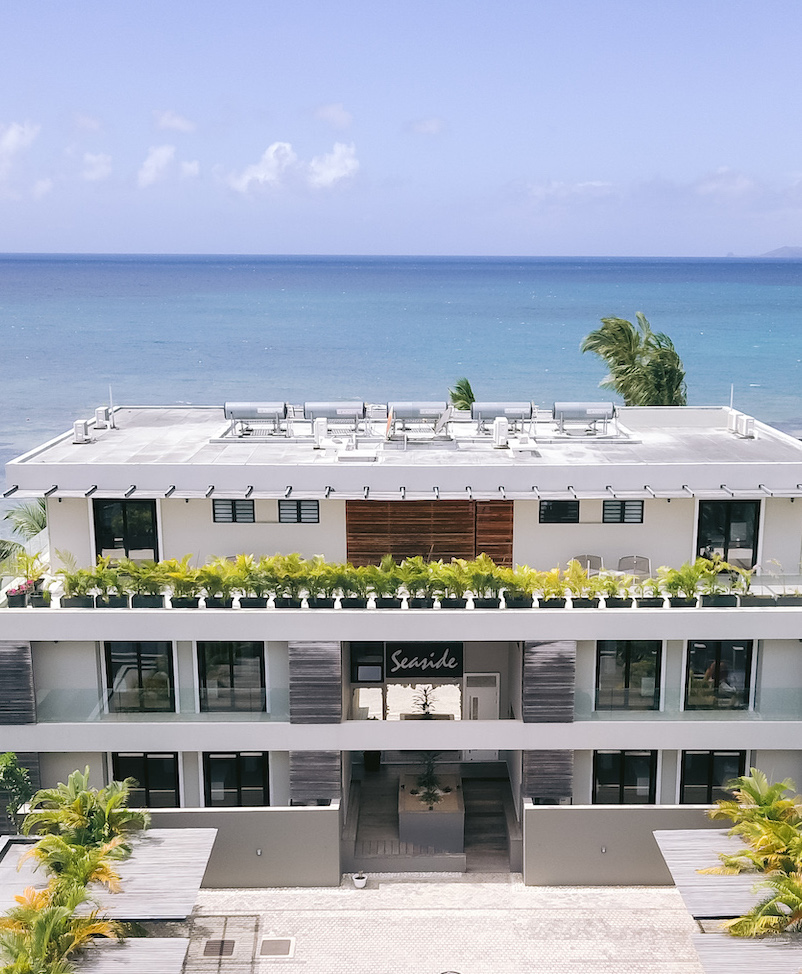 A sumptuous

residence
---
Discover this sumptuous residence in Pointe aux Canonniers.
This residence is more than a major real estate development, this project is undoubtedly the most beautiful and the most prestigious. It is distinguished by its avant-garde side and was designed to favour quality of life and offer unparalleled well-being, everything a resident could dream of. It embodies a true oasis of tranquillity where calm reigns supreme, where luxury blends with the surrounding natural beauty.
An invitation to relaxation and serenity!....
The Privilege 
Choice
---
The residence consists of a Luxurious Penthouse and 4 apartments sold fully furnished and equipped.
All composed of 4 en suite bedrooms, including a "Master bedroom", offering access to a terrace with a breath-taking view of the ocean. A large living room with open kitchen sea view, very bright thanks to the all-white walls, ceiling, floor and kitchen units offering an incomparable, intimate and comfortable living environment. A laundry area at the entrance fully equiped with cabinet and storage which can be multi-use spaces. Bedroom with tailor-made design fitted wardrobes to maximise the space. Front side bedrooms are also open onto a terrace and offer a real little corner of paradise.
These rooms are designed for a privileged awakening!.....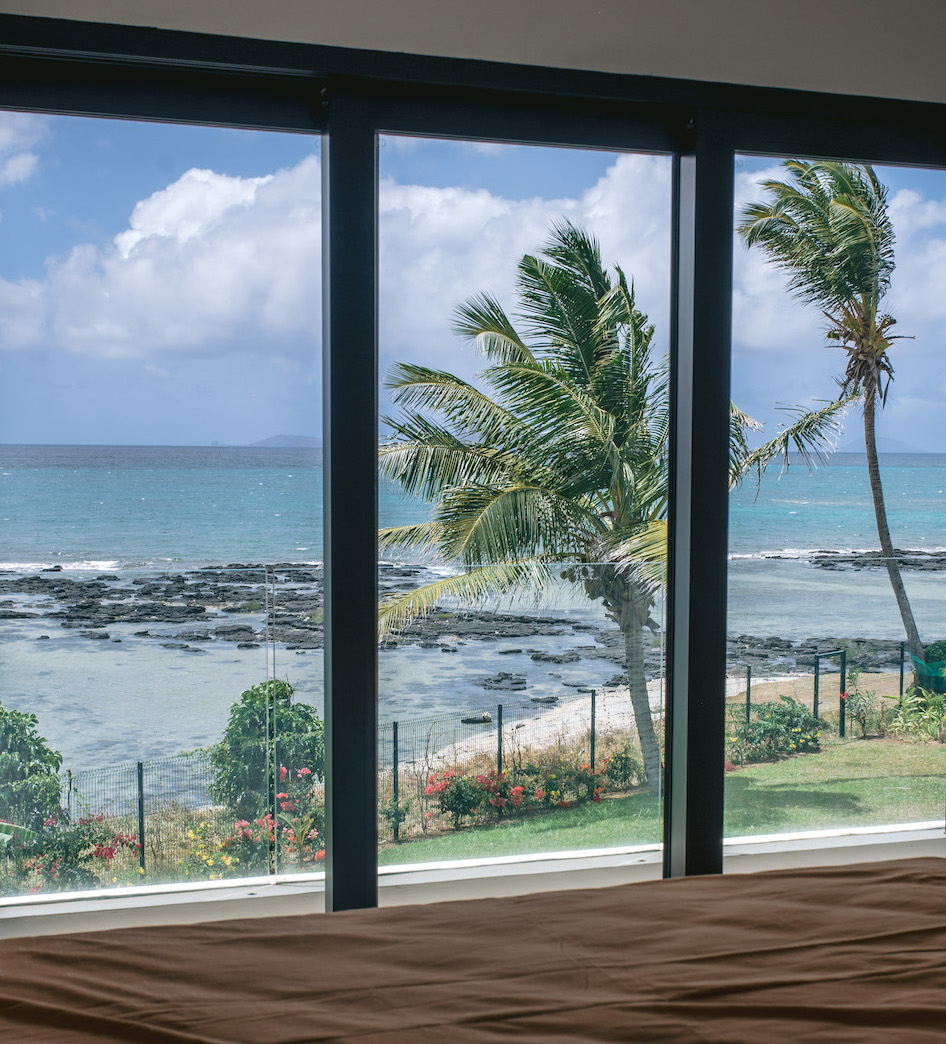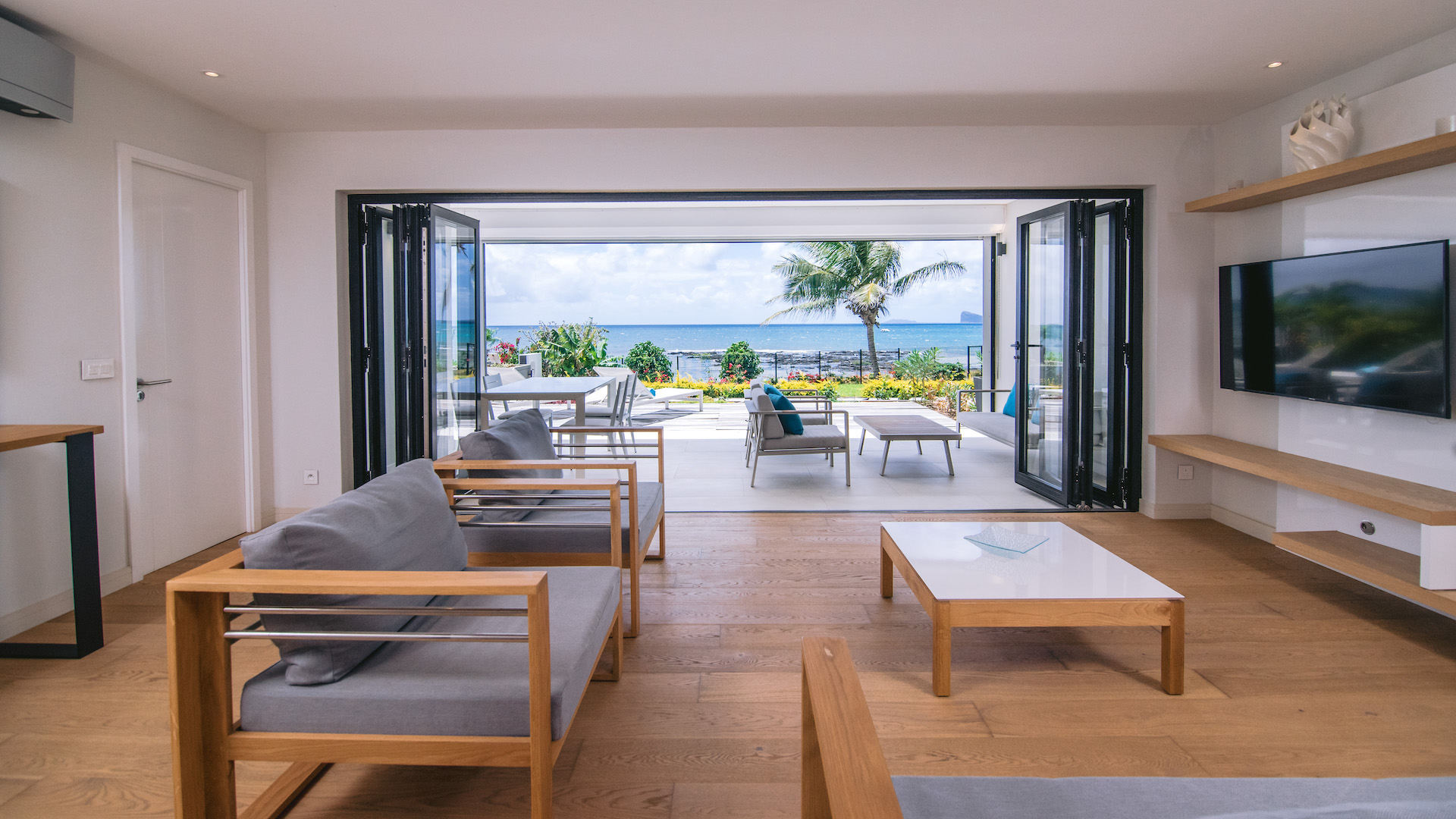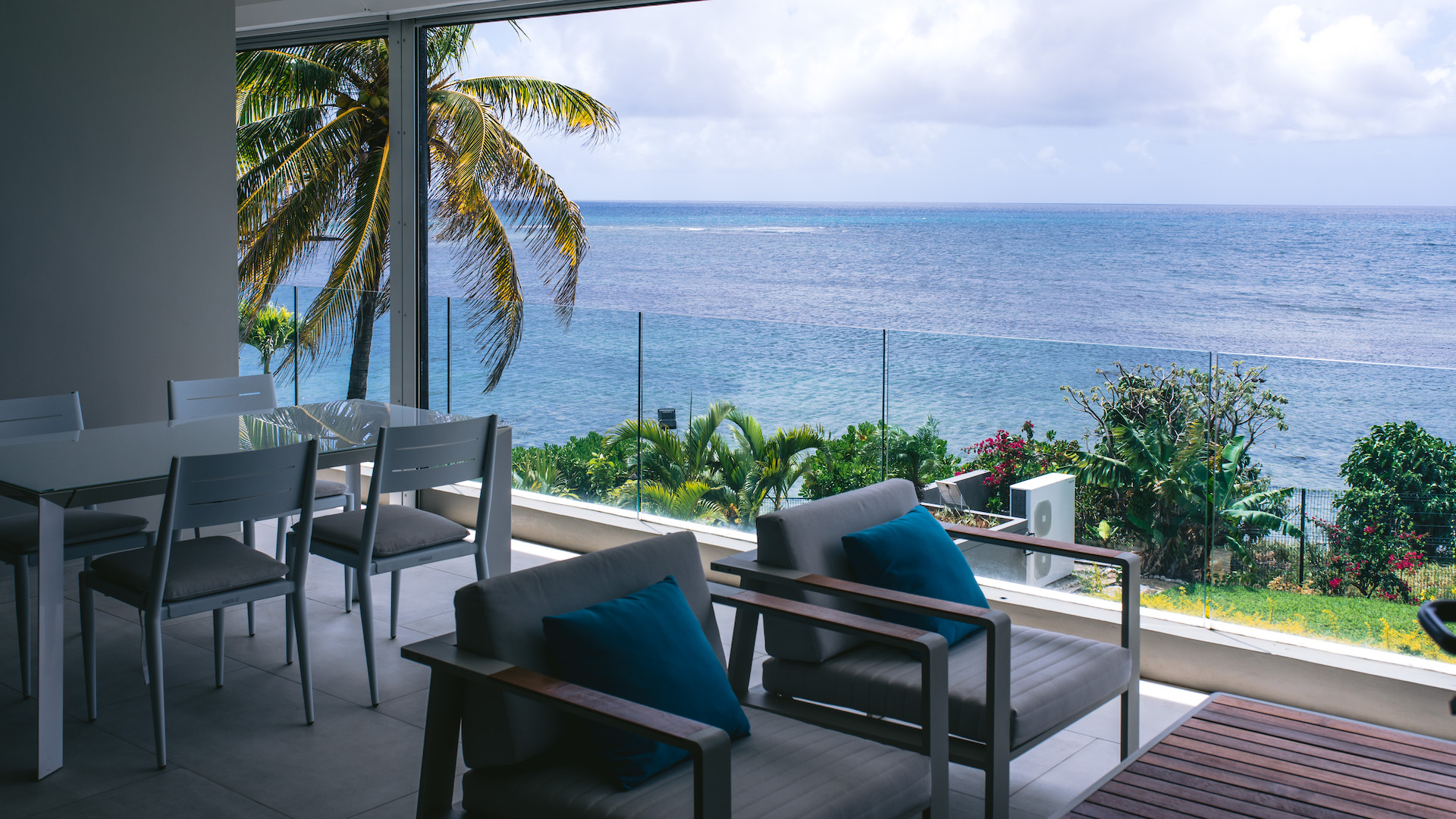 A Timeless 
style
---
This exceptional Beachfront Residence designed with the greatest care by passionate architects, extends over 3 levels/ R+2 served by elevator and staircase.
The architecture combines modernity with elegance through the use of noble materials and sober colours that reflect the surrounding view and setting. The details of the architecture, the layout and the palette of colours, shades and textures reveal a well-thought-out program with fluid lines that is both aesthetic and functional.
Everything is implemented for the great comfort!...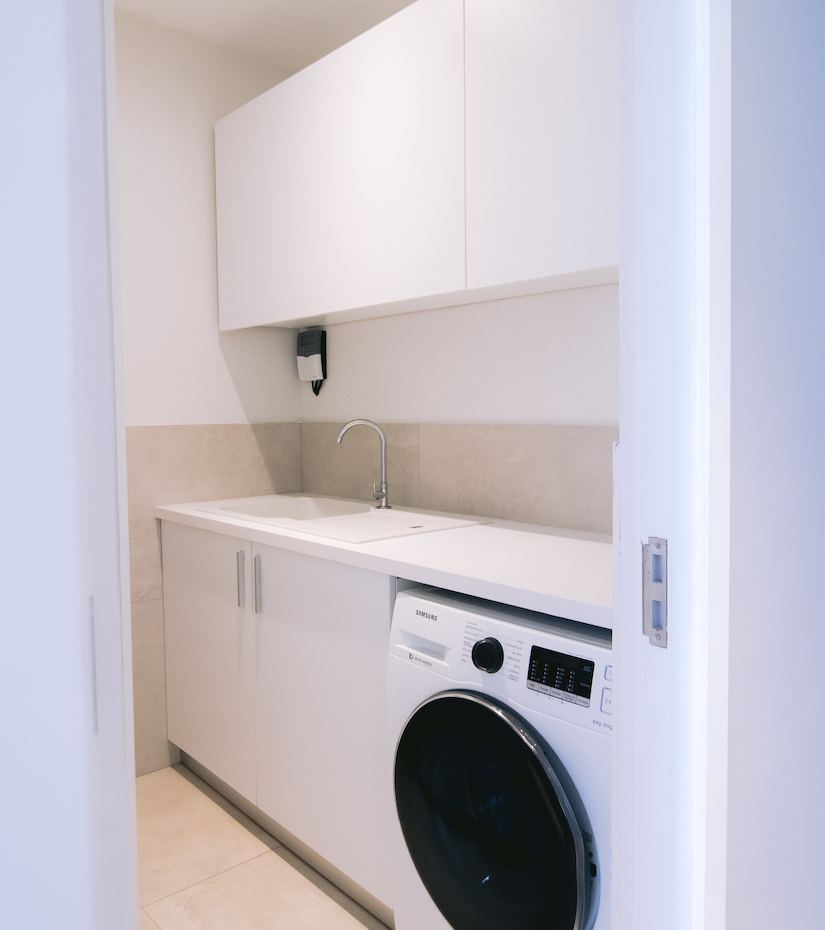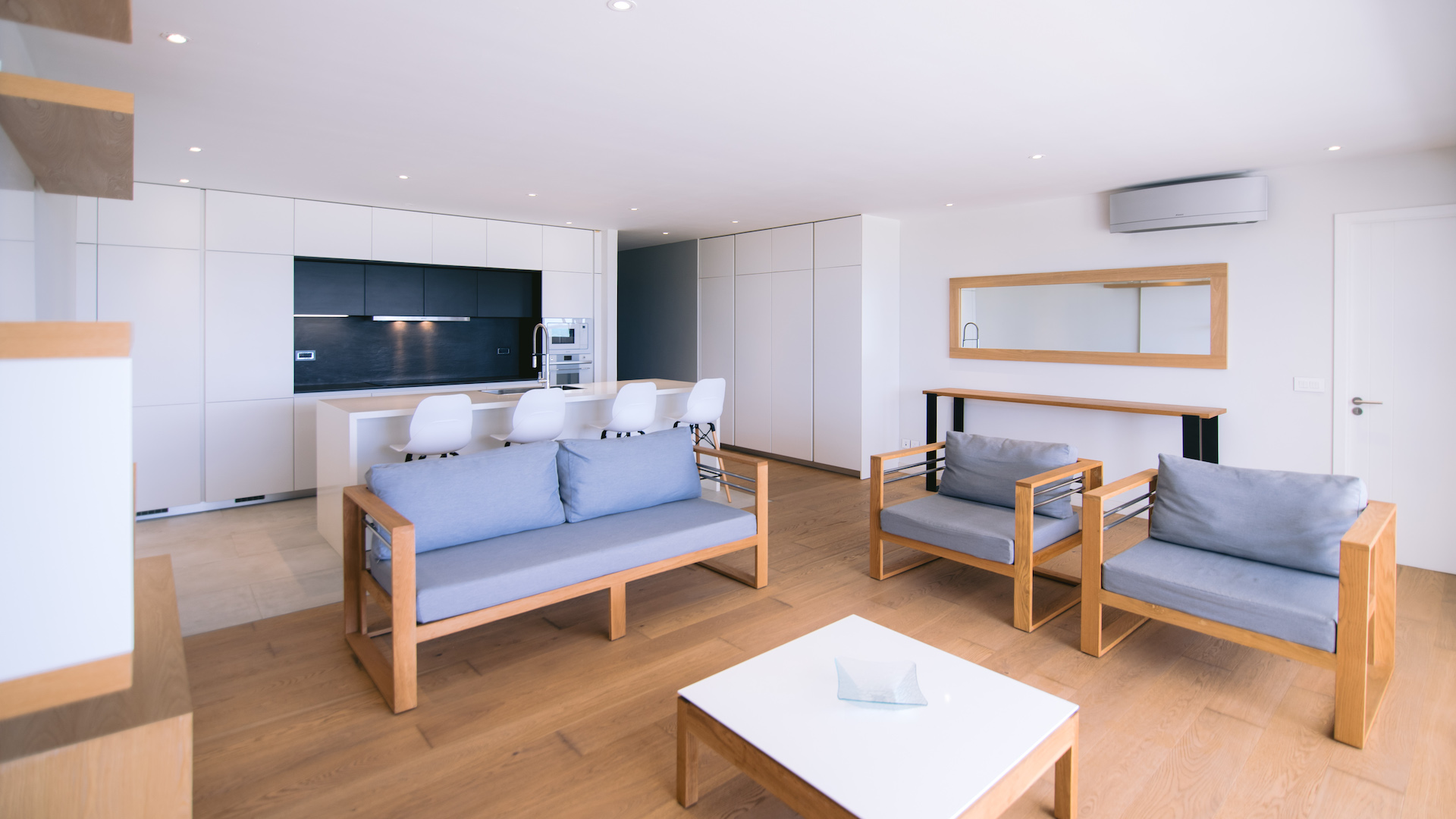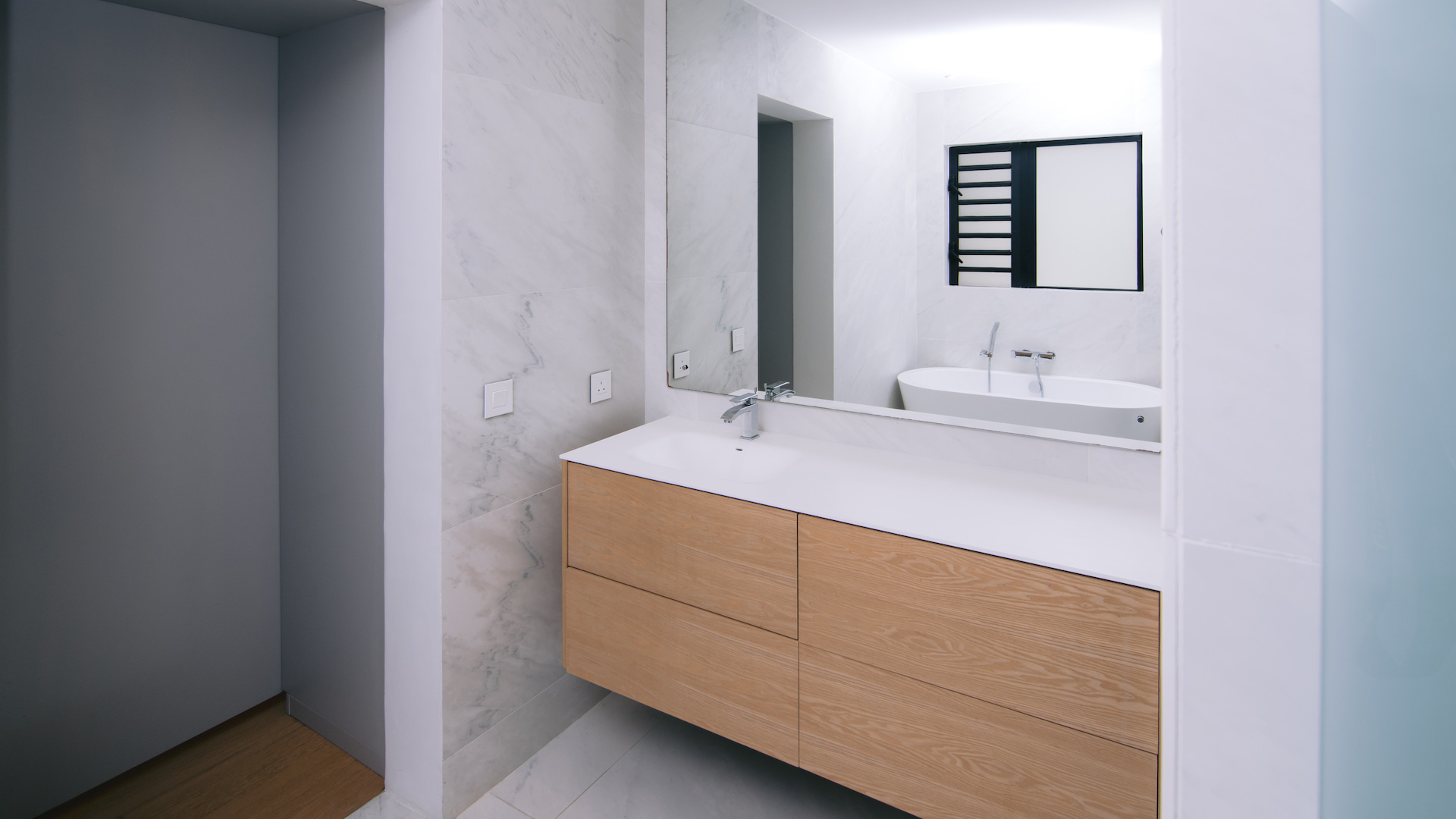 A bright and

elegant layout
---
Spacious living area, all apartments have spectacular views of the vast expanse of the Indian Ocean and the northern islets.
 The large living room bay window can be opened to create a panoramic space through the glass panelled balustrade of the terrace which also attract light in each room and allow you to live inside as well as outside.
Mix of luxury, refinement and sweetness of life!...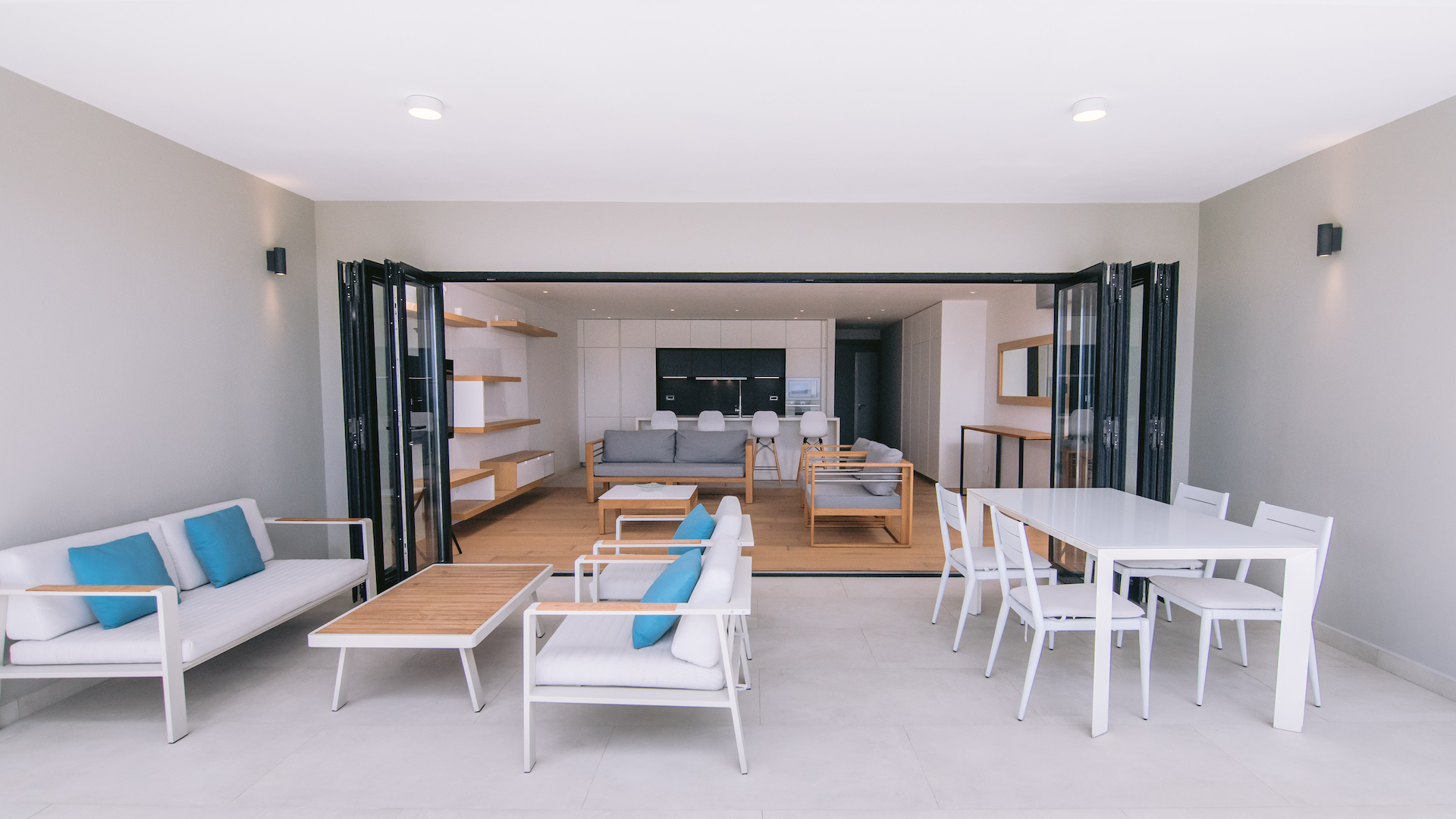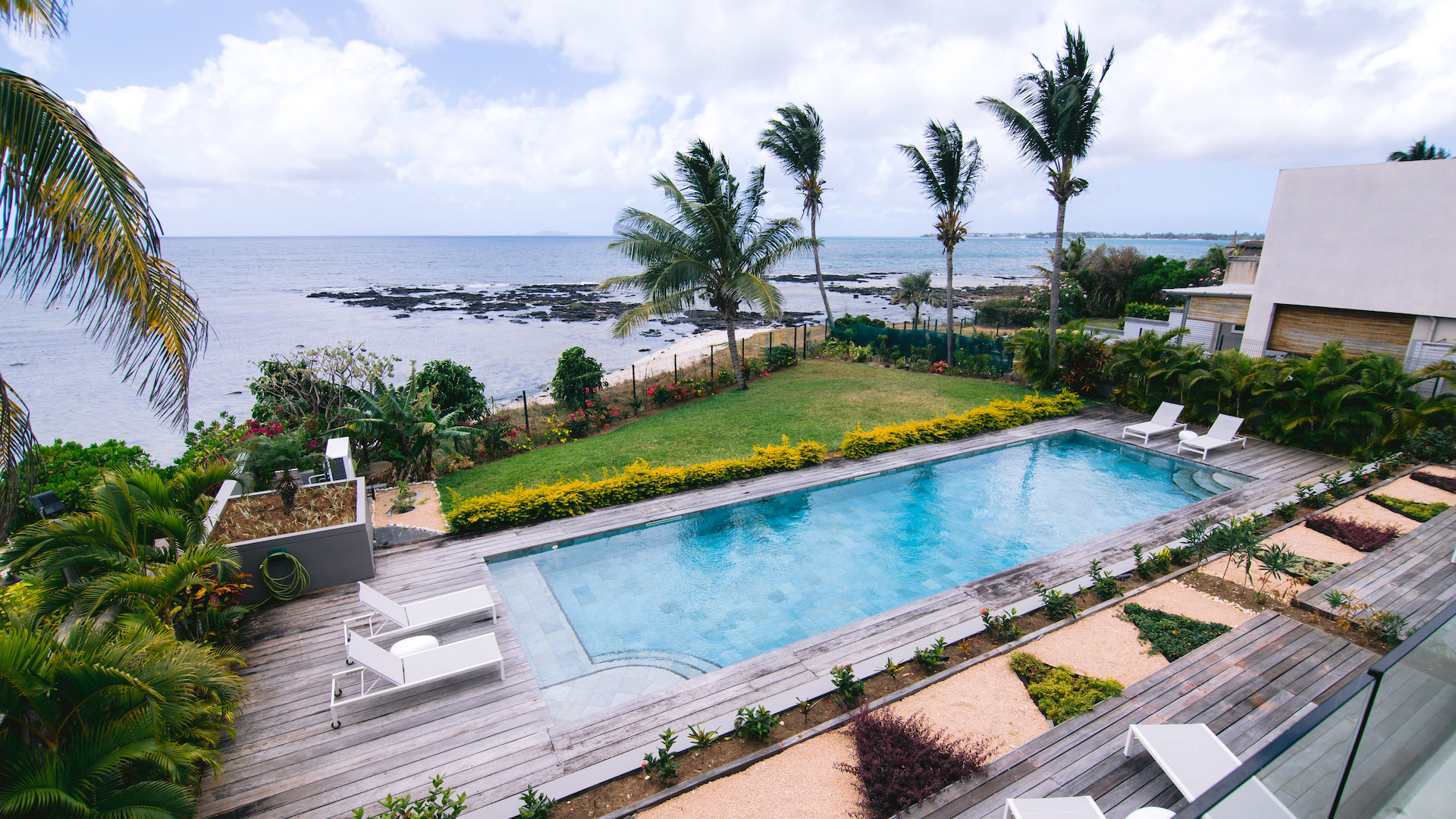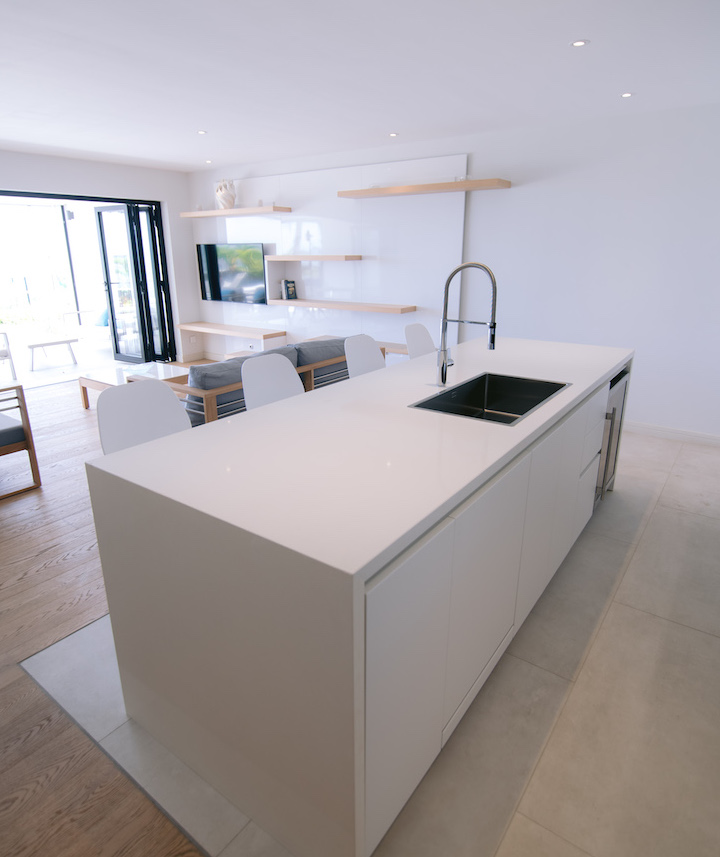 A sea view

kitchen
---
For the epicureans, you will have the pleasure of cooking in a fully equipped kitchen with ocean view.
The high kitchen units up to the ceiling are distinguished by their maximum capacity and the perception of storage which bring elegance to the composition. Very functional, it allows you to integrate a lot of storage while delimiting the space with the living room.
Nothing better than enjoying the sea view while cooking delicious meals!...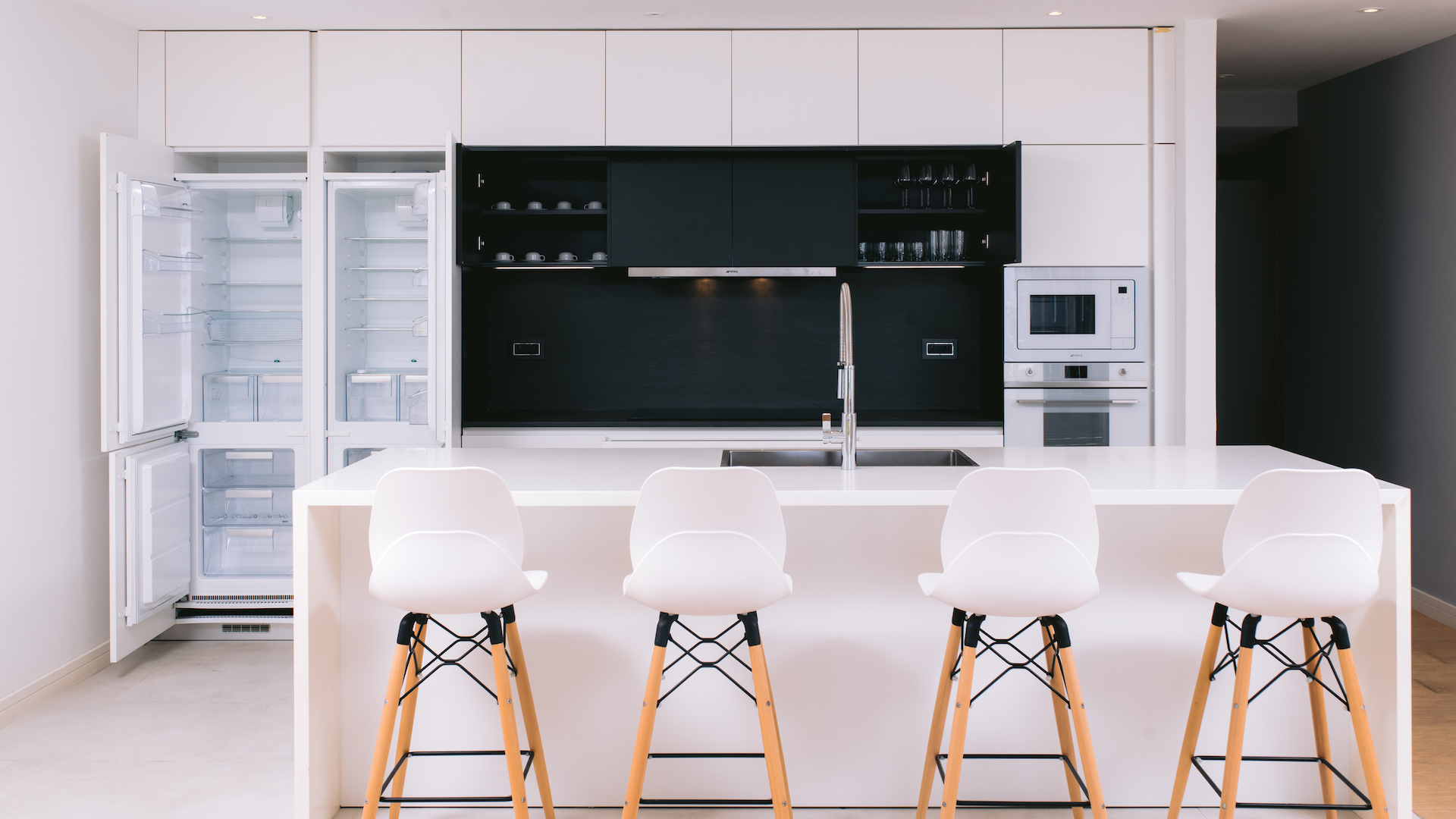 AN EXOTIC BEACHFRONT GARDEN
Sea Front
---
One of the major assets of this residence is its garden and beachfront access.
Green spaces envelop the entire residence. Here, nature becomes your accomplice in the quest for tranquillity. There is a beautifully landscaped garden and a large heated swimming pool 20m long (shared use) to be able to swim comfortably.
A relaxation area in front of the pool, an exquisite sea view that encourages contemplation and rest!...
ALLOCATED AND INDEPENDENT SPACES
Land front side
---
In the case of residences, each apartment owner benefits from 2 reserved and numbered parking spaces.
An allocated private space for storage stock of amenities and a Laundry area in common use, a Bathroom area with WC for house staffs also common use.
OPPORTUNITY
A Turnkey
---
The price of an apartment in this residence not only includes furniture and fittings, but also a turnkey opportunity.
Your dream of residing in an exceptional setting, where luxury and comfort intertwine with exotic nature, is within reach. Do not miss this unique opportunity to live in an exceptional setting.
You will be able to seize the opportunity to transform this sumptuous residence into your haven of peace, where serenity will embrace you every day.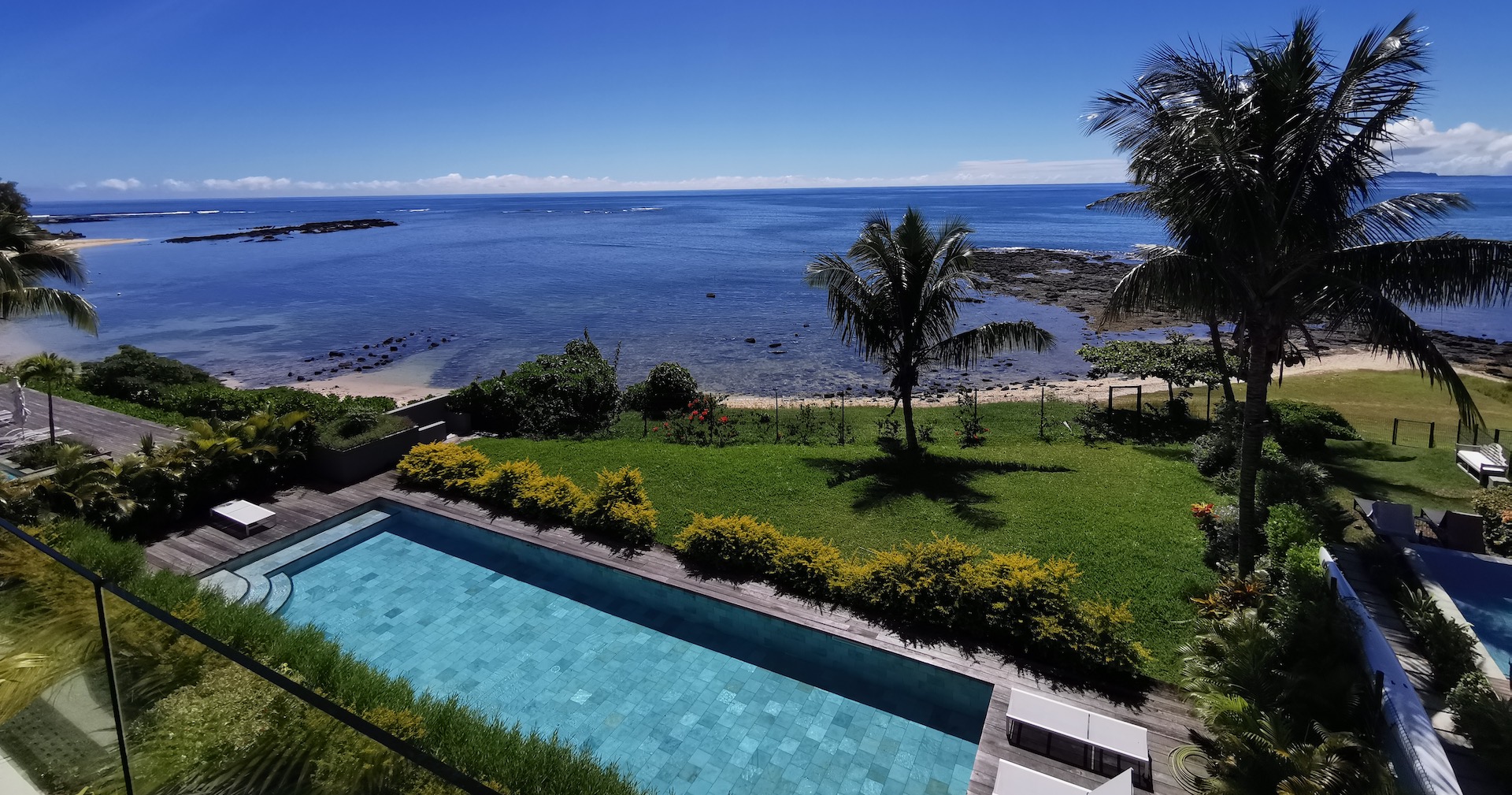 Penthouse
---
Give your wish list an upgrade by choosing the perfect place to call home.
At the top of this residence, as a sign of exclusivity, is a Penthouse of 481m2 with a breath-taking view.…..
Although houses also offer space, this Penthouse is the ideal choice if you are looking for the best unit of a residence. It has four en-suite bedrooms, a large living room including kitchen, utility/laundry room and a terrace with stunning sea views.
Entering the living room directly from the lift you are presented with bright light from an open layout and floor to ceiling windows. Ample living space and exquisite finishes. The fitted kitchen is just beyond, storage is plentiful with custom soft close white oak cabinetry. Everything has been studied to maximize the comfort of this exceptional property.
For seamless indoor/outdoor living, open the large bay windows wide and move from the interior to the terrace, the perfect place to welcome and entertain your friends and family.
Another advantage of this particular accommodation is undoubtedly the fact that it offers more privacy, you are generally the only apartment on the top floor. An absolute discretion.
Without a doubt, this is your ideal home….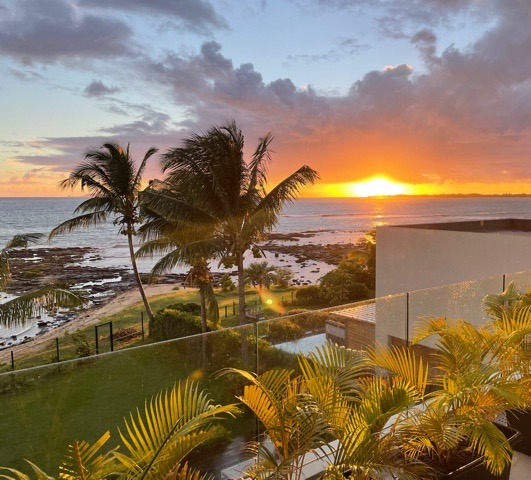 UNITS
1 penthouse (second floor)
4 apartments (ground and first floor)